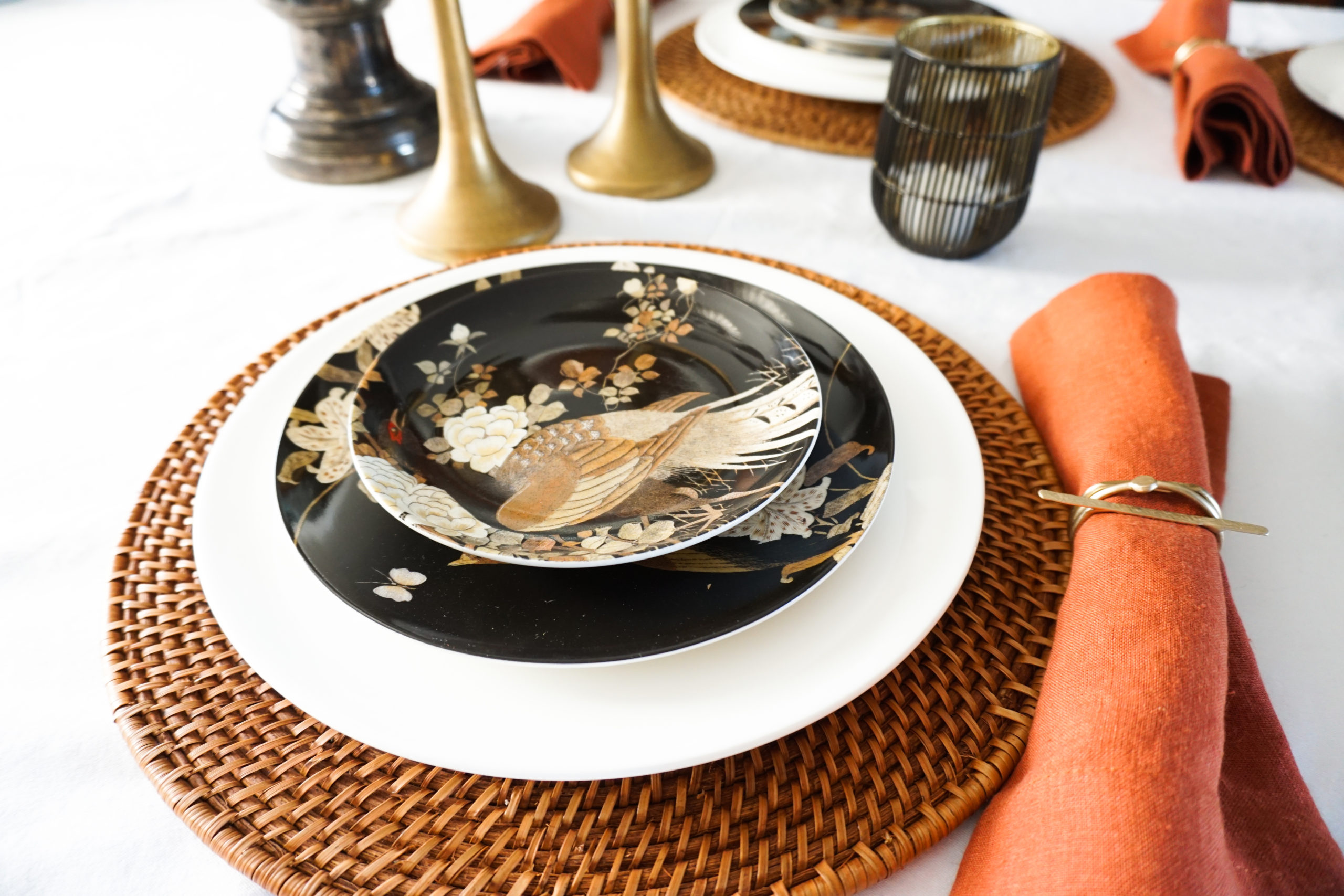 How to create a warm and inviting gathering.
It's safe to say that the holidays this year will look much different than years past. Smaller gatherings make it easier to break out that fine china or cook those meals that are just too difficult to do for large groups. With all that we have been through this year, the holidays mean so much more. We value the time we spend with family and cherish the memories that we make. For that reason, we decided to set a table that would be memorable, and we are letting you in on all the tips and tricks.
A festive interior starts with a well furnished home. That means that it is time to use our beautiful dining rooms. We start by setting our table with a felt-backed vinyl pad to protect it from spills and hot plates. It also adds some softness. We then add a table cloth over the top. Our favorite is a classic white cotton tablecloth but you can also mix it up with a fun pattern or dramatic color.
Now, It's time to add some texture.
We like to do this by using placemats with a natural texture such as these from Crate & Barrel. You can use them for any occasion as it adds the perfect layered look.
Ok, we have the base down, let's add some dinnerware now.
We like to start with a white porcelain dinner plate that is a staple in any entertaining household. They can be used for quite literally any occasion and can be changed with the look of another plate on top. Adding a fun salad plate such as the ones we chose below allow for versatility and a "mix and match" appearance.
Now onto napkins. With a white tablecloth, we tend to add a pop of color with napkins.
This burnt orange hue works perfectly for fall. You can even layer your napkins between plates or add a textured napkin ring for added interest.
My favorite part about any tablescape is the fresh flowers. Flowers are inviting and add a nice floral scent. You can use flowers from your local florist, fresh greens from outside, herbs like rosemary and thyme, and even pinecones or other natural seasonal elements. The key is to keep them low so that your guests can continue good conversation around your table.
But what about lighting? Lighting is key to setting the perfect mood. Focus on soft, dim, and warm lights to create a soothing ambiance that allows your guests to linger. We added fairy lights to the arrangement below. Candles are also a must when it comes to lighting. It adds another layer of warmth that sparks conversation.
We're almost there now. Let's talk music.
Music tends to relax your guests and make them feel at home. One of our favorite dinner playlists is Frank Sinatra Radio on Spotify. But if you're looking for fun and upbeat cocktail hour music, might we recommend the Redux Holiday playlist on Spotify?
Our biggest piece of advice for hosting a holiday this year is to prepare as much as you can ahead of time. You want to be able to enjoy your company and treasure those moments. I'll leave you with one last thing…
Our favorite holiday cocktail recipe!
A pomegranate gin (because we love all things gin 😀) cocktail.
Inspired by Joyful Healthy Eats, we have put our own twist on this holiday drink.
Ingredients:
2oz Hendricks Gin
1oz Orange Juice
1oz Pomegranate Juice
Sparkling Water
Fresh Thyme & Orange as garnish
Add 2oz of Hendricks Gin along with 1oz orange juice and 1oz of pomegranate juice to a shaker with ice. Shake well and then pour over ice into a glass. Top off the drink with sparkling water, a slice of orange, and fresh thyme. Enjoy!
If you would like more information on how to make your home holiday ready contact us!
Cheers & Happy Holidays!