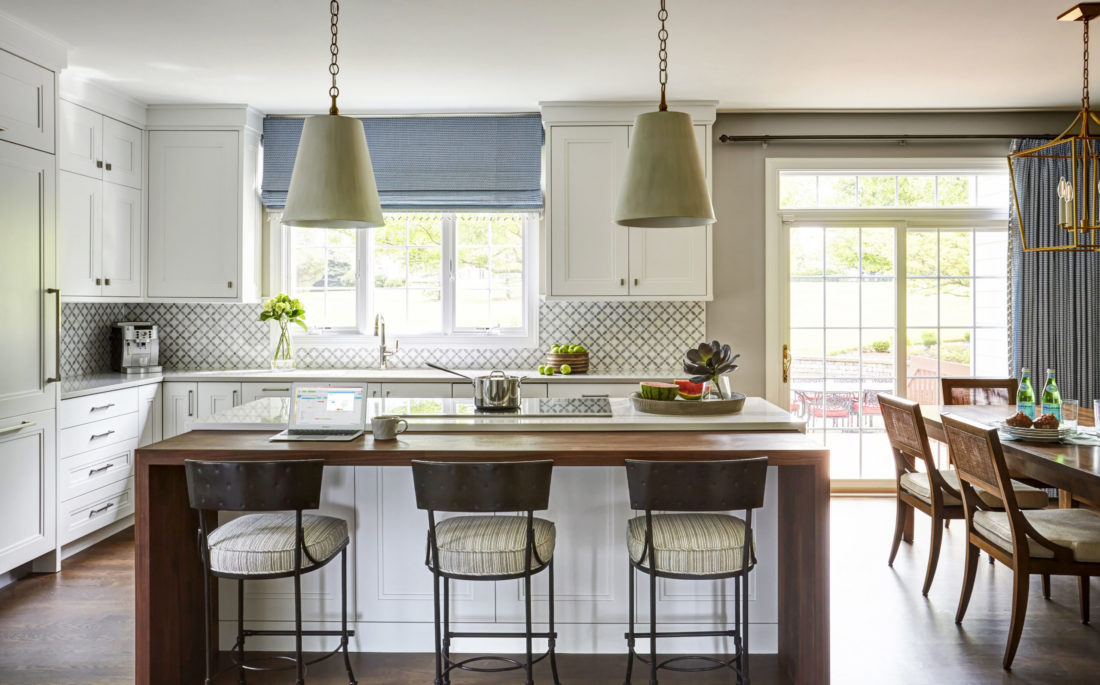 For all of you total transformation fans, this newly renovated home in Barrington, IL won't disappoint.
The key to creating a cohesive home starts with a solid plan. These homeowners wanted an aesthetically pleasing space that allowed them to age in place.
After understanding the client's needs and developing a detailed space plan, we were ready to get started.
Kitchen
Based on our color palette and a few pieces of existing furniture, we were able to determine which paint colors would best suit each space.
The home begins with Benjamin Moore's Revere Pewter in the entryway. This warm neutral paired well with the color scheme as it flowed into the kitchen.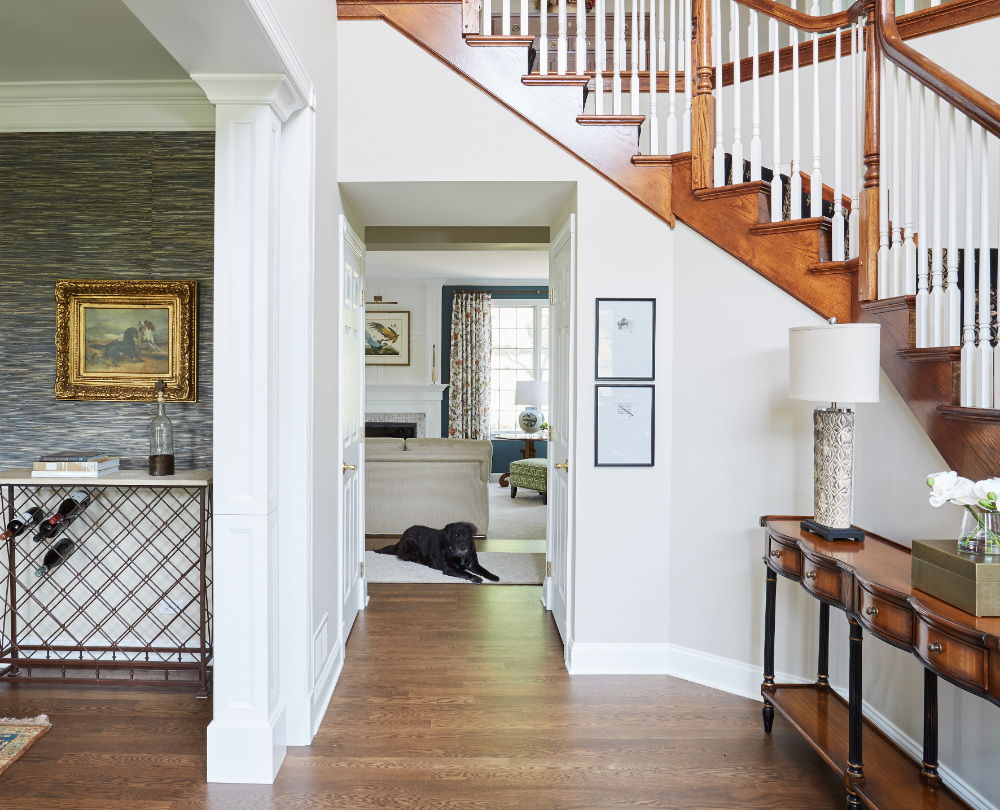 We wanted to design the kitchen with multifunctionality in mind.
Most importantly, the client needed a space to cook, share a meal, and also work on their laptop. We transformed the kitchen island from an awkward L-shaped island into a rectangular island, maximizing storage and functionality. The island cabinetry was color-matched to Benjamin Moore's Gravel Gray.
You'll also notice the custom millwork throughout this redesigned space that provided continuity from room to room.
From the kitchen, we move through the butler's pantry and into the dining room.
Dining Room
In the dining room, we created the perfect combination of modern and traditional.
The walls are finished in a grasscloth, adding additional interest that coordinated with the existing rug and dining table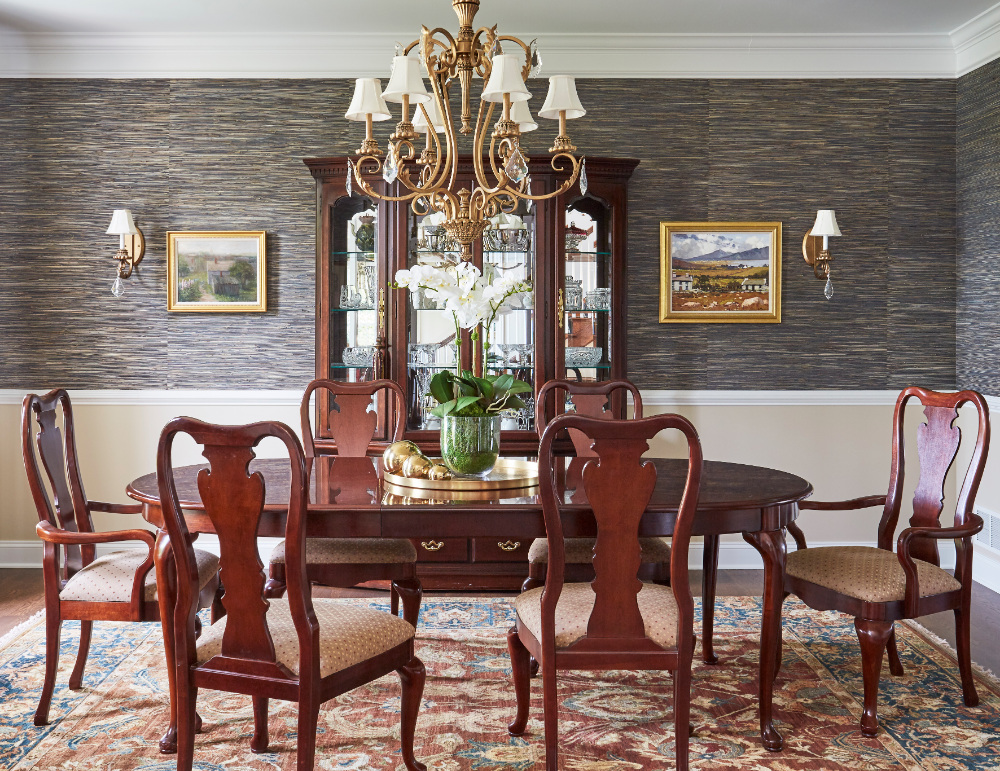 Powder Room & Laundry
Now for some real excitement…
The client's love for traditional patterns gave Redux the bold idea of using a traditional pattern in an untraditional way. This sparked the idea for this hot pink powder room.
Similarly to the kitchem, our main focus in the laundry room was clean function. Paint color and millwork in the laundry room mimic others found on the first floor to tie everything together.
Family Room
On to the renovation of the family room—the place where we all love to relax.
With plenty of seating and a nook in the corner, this space allows for flexible entertaining. The custom millwork, fireplace, and drapery create a true feeling of coziness.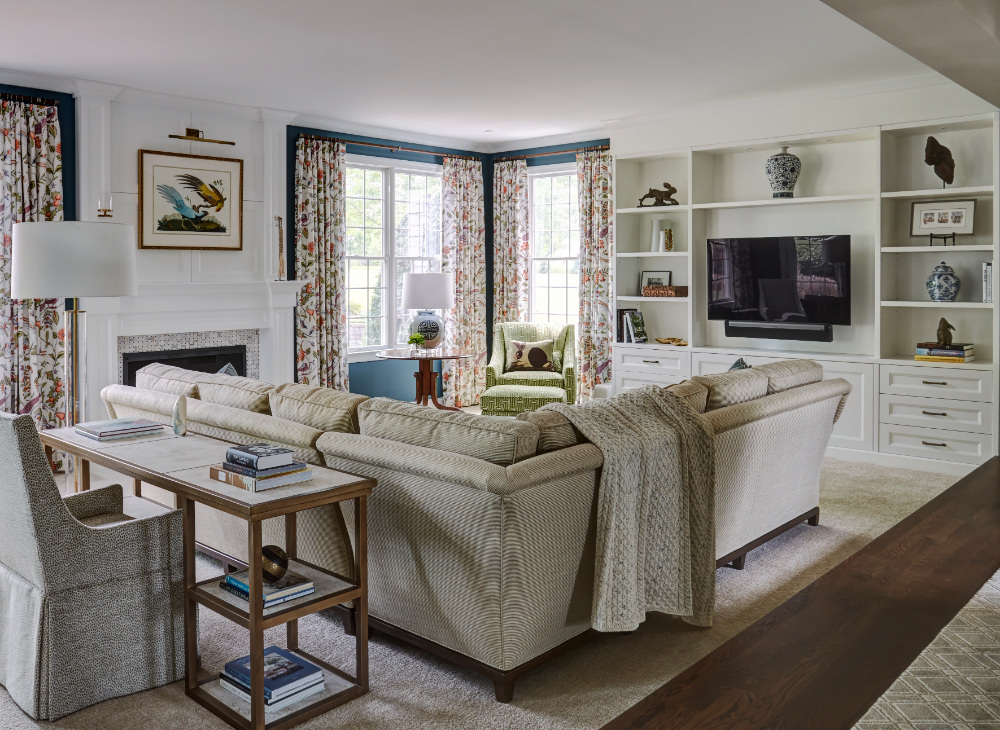 Are you in or around Barrington, IL? Could your home use a thoughtful renovation?
To get started on your own redux, contact us. Stay tuned for our next renovation walkthrough!